Surfboards, as beautiful as they are, can be a pain to travel with so sticking them on top of your car is often a wise move. We take a look at the best surfboard car racks to make your surfboard travel a little bit easier.
Why Do You Need A Surfboard Car Rack?
First of all the sheer size of surfboards means that they won't fit in a lot of cars, or at least not without a fair chunk of it hanging out the window – which probably isn't entirely legal.
Then of course if it is inside the car it can get knocked around, bump into something and pick up some dings or scratches.
And finally, at the end of a long day of surfing, your sandy, dusty, salty surfboard could end up damaging the upholstery in your car, so best keep it outside!
Types Of Surfboard Car Racks
There are three main types of surfboard car racks. Okay technically speaking only two of them are for cars and one is for pick up trucks, but they are the main three for automobiles.
Soft Car Racks For Surfboards
Soft surfboard car racks are pretty much a pair of straps with buckles that go through your car door frame and over the roof of your car, and extend to secure your surfboards on top.
They are light, portable, easy to travel with – especially handy if you're hiring a car – easy to assemble, and secure. They work well with almost any car or SUV.
The only difficulty you might have is if you have a 2 door car, as you're going to struggle to get the straps spread far enough apart to be secure.
Hard Car Racks For Surfboards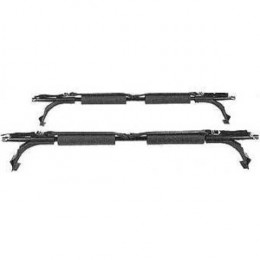 A hard car rack for surfboards is more expensive, and not quite as portable – so it doesn't make a great travel companion if you haven't got your own car to use.
As they are firmer, they keep the weight of the boards off of the roof of your car, and because of their design, they also suit 2 door vehicles, which soft surfboard car racks might not be able to do so well.
Surfboard Racks For Pickup Trucks
To an extent, with pick up trucks you would think it is much easier to get your surfboard around. Just slide your board into the back and off you go.
If you care about the condition of your board, you know that that's basically wrong.
You still want some padding to stop your board from getting dinged and some security that it won't move around too much.
A surfboard rack for pickup trucks is basically a tailgate pad, but with straps to give you board a bit of lateral security so it doesn't slide around.
It goes without saying that it is designed for pick up trucks, and it works well if you choose the right one.
So What Are The Best Surfboard Car Racks?
Best Soft Surfboard Car Racks
There are probably only two soft racks for surfboards that we would recommend. Based on our own experience, a variety of testimonials and reviews, these are the only two that proved to be of high quality, reliable, good value for money – in other words the only two worth even considering.
The FCS Premium Double Soft Surfboard Car Racks are reliable, extremely easy to set up, hold up to high speeds when cruising down the highway and are very sturdy.
They hold 1-6 shortboards or 1-4 longboards so perfect for travelling in a group.
These racks have a secure D ring set up and are a single piece system, so you can't separate the tie-down straps, but that helps make them more secure.
Great value for money and extremely practical.
Click Here To Find The Best Price
Our other suggested option is the Curve Surfboard Soft Racks Set. A bit cheaper than the FCS one, but also a bit smaller.
These ones can take 1-4 longboards or 1-3 surfboards, so not quite as much.
They have a unique single-loop tie down system which creates downwards tension and helps keep your boards secure.
Click Here To Find The Best Price
Both of these are great options and come very highly recommended. The Curves model is a bit cheaper and probably better value for money but the FCS can take more boards so do bear that in mind too.
Best Hard Car Rack For Surfboards
The absolute ultimate hard rack for surfboards is probably the Thule Sup Taxi Carrier.
It fits surfboards up to 34″ width, and fits most standard car rack systems and all Thule systems.
It comes with a very strong four lock system – 2 to strap your board to the carrier, and 2 to secure the carrier to the rack system.
It is easy to use, easy to adjust and makes for extremely quick loading and unloading – so you get more time on the waves!
The Sup Taxi carrier is of course designed for paddleboards (hence the "sup" meaning stand-up paddleboards) but as long as your board is under 34″ width, I have been told it works just as well for surfboards. How many you can fit though depends on how thick your boards are.
Click Here To Find The Best Price
It is a bit on the premium side, so if you're looking for something a little bit cheaper then look no further than another Thule option, the Thule Board Shuttle.
The Thule board shuttle again works with most factory rack systems so is practical and can be used on plenty of cars. Like the Taxi Carrier, it can also take boards up to 34″ in width.
It can transport up to 2 boards securely, and it is indeed very secure.
And of course it is designed with both surfboards and SUPs in mind, whereas the Taxi Carrier is mainly designed for SUPs.
So for surfboard transport purposes, it is probably the best hard rack for surfboards.
Click Here To Find The Best Price
Best Surfboard Rack For Pickup Trucks
Again, there are probably only 2 worth really considering in this bracket.
The first is the Dakine Tailgate Surf Pad.
It is purpose made for surfboards and paddleboards, it is pretty cheap and it doesn't slide along the tailgate of your pick up, meaning that it is a secure, solid way of transporting your boards around.
It looks good, its functional, it doesn't cost a lot and it can hold up to 3 or 4 boards at a time. Perfect for your pick up.
Click Here To Find The Best Price
And the other option is a bit more all-in-one for most adventure sports. As in it literally can take anything.
The Softride Shuttle Pad is perfect for an adventurer with a pick up truck.
It is available in a mid range and full size, comes with a 1 year warranty, can take multiple bikes and boards at the same time, and the velcro strapping system lets you still access the tailgate without needing to remove the pad.
It will hold things in place on even the bumpiest of rides, and is easy to install and remove.
The Softride Shuttle Pad is a bit more expensive than the Dakine, but you are paying for a thicker, more durable tailgate pad which can do a lot more. Some of our commenters have mentioned easily being able to take 3 bikes and 3 boards for a full day of activity.
So that is definitely something worth bearing in mind.